(Scroll down for Ticket Purchase information)
Announcing the 2nd Annual
Vintage Valentine Ball!

Saturday, F
ebruary 11, 2017
By Guli Productions
Colonial to World War II, or modern dressy attire is requested
(Wear non-marking shoes! ...or you may be asked to dance in your socks to protect the beautiful light-colored hardwood floor at the Avalon Ballroom)
The Avalon Ballroom
6185 Arapahoe Rd., Boulder, CO 80303
Doors open at 6:30 PM, Dancing begins at 7:00 PM
Dances of the evening will feature plenty of couples' dances such as
Waltzes, Polkas, One-Steps, Tangos, and Swings,
and favorite historic set dances such as
The Spanish Waltz, The Virginia Reel, and The Duke of Kent's Waltz
Dance instruction by
Sharon Guli
of Guli Productions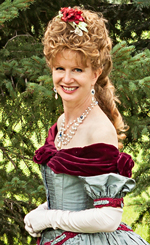 Music by Rodney Sauer's Mont Alto Orchestra
Using historic libraries of music, Mont Alto is a chamber ensemble that creates vibrant, emotional, and historically appropriate musical settings. Mont Alto was formed in Colorado in 1989, and has scored over 100 silent films using historic orchestrations. Mont Alto collects original compositions and orchestrations from the turn of the century through 1930 for its tea dance series, silent film presentations, and concerts.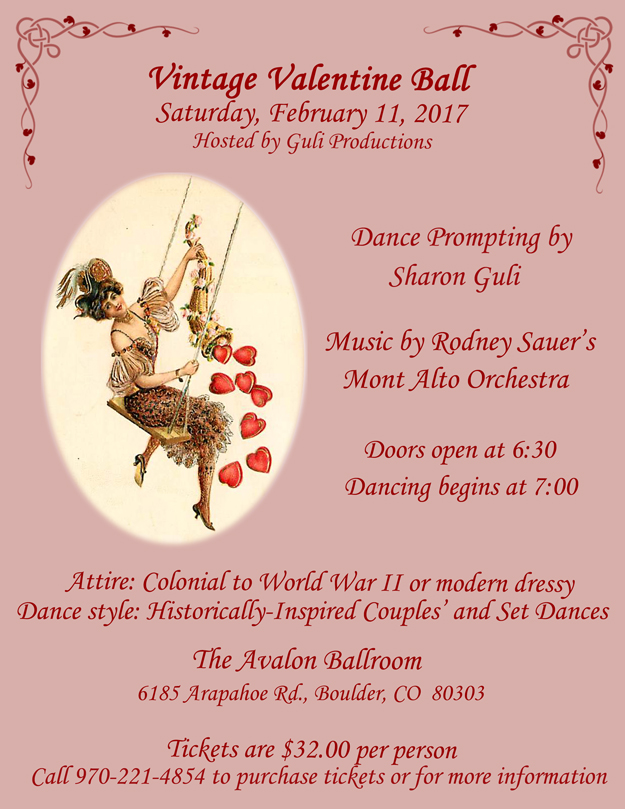 Tickets for the Vintage Valentine Ball
$32.00 per person
To purchase Vintage Valentine Ball tickets with a credit card
Please list all attendees in your party, and be sure to select the correct number of tickets in the Shopping Cart.
Or, call 970-221-4854 to purchase tickets over the phone with your credit card.
No paper tickets will be mailed, but you will receive a confirmation email and your name will be on the list at the door.
Feel free to call 970-221-GULI (4854), or email Sharon Guli at Events@GuliProductions.com for more information.
We hope to see you at the Ball!
- Sharon & Mike
SPECIAL NOTE: Make a weekend of it! The next day, Sunday, February 12, American Vernacular Dance is hosting a Valentine Tea Dance with vintage ballroom dancing, also at the Avalon! It runs from 2 - 5 PM, with live music and a free lesson beforehand at 1:00 PM. For more information, contact Jim X. Borzym at 720-317-3946 or avd@columbine.net
"Vintage" ballroom dancing to great live music at the Sunday afternoon Ragtime-Era Tea Dances. Waltz, tango, foxtrot, one-step, blues, two-step, Charleston, early swing, maxixe and half-and-half are among the couple dances we enjoy at the "Tea Dances". The dance lesson and lovely light refreshments are included in your admission price. The lesson is always aimed at easy lead-follow dance skills to get you dancing comfortably and meeting other dancers.
No prior dance experience required. No partner needed. Second Sunday of the month, September through May (no summer dances).
"Vintage dance" means early styles of couples dancing, including those from the early American ballroom dance craze of the ragtime-era, which is roughly that sentimental period of 1909 through 1914. Recommended dress is dressy; i.e. vintage, neo-vintage, contemporary fashionable, or otherwise clean and neat. No shorts or casual t-shirts for men.
The Tea Dances are conducted by American Vernacular Dance.