The Vaquero
by Michael J. Guli Designs for River Crossing, Inc.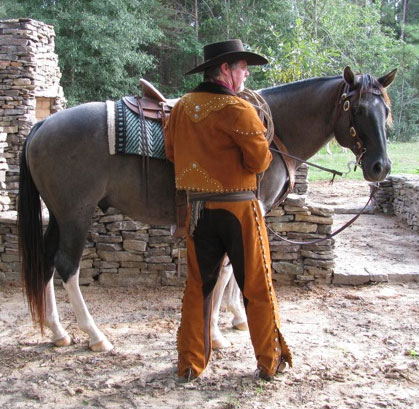 In the mid-1800ís, artist James Walker produced a number of paintings that featured the Vaquero, master horsemen of Spanish blood who came to this country during the late 1500ís. We owe much of our cowboy knowledge, culture and language to these riders who were descended from the knights of Spain. This coat is inspired by these talented men who often wore their wealth on their body in the form of flashy clothing. Made of ranch-raised deer hide, and decorated with nickel silver conchos, this short-waisted coat features beautiful details and would have been worn with a distinctive sash at the waist. As in the past, this eye-catching coat is still all about confidence and attitude.

Vaquero Coat pricing starts at $995.00
Vaquero Pants complete the ensemble. Pants pricing starts at $995.00.
Vaquero outfits are custom-made to best suit each client's individual preferences. Please call to discuss your specific design.
Deerskin Leather Colors:

| | | | |
| --- | --- | --- | --- |
| | | | |
| Palomino | Dusk | Mahogany | Black |

(Dye lots and computer screens will vary)

| | |
| --- | --- |
| Standard Sizing | Chest |
| Men's Small | 38-40 |
| Men's Medium | 42-44 |
| Men's Large | 46-48 |

Extra large sizes are by special order only and will incur an additional charge. Please call to inquire.

Call 970-221-2992 for quotes, questions on Vaquero Outfits, or to place an order.

Please Note: Each item is hand-made by Mike Guli of River Crossing Inc.

Orders can take three weeks to three months to fill, depending on when your order is received. Please call for an estimate on your particular delivery date.