The following letter was sent on July 1, 2012:
Our First Trip Back to "Paradise" -
the latest Colorado High Park Fire Update
(contains photos - please be patient as they load)

OK, we're back from our first trip to our mountain neighborhood, Paradise Park, since we were evacuated three weeks ago. First fact – the house is TOAST! It's now just a huge hole with burned out pieces of blackened metal junk. The fire was so hot it melted glass. However, I was surprised to clearly see a few clean-looking mugs and at least part of a plate. We could also make out the charred outlines of things like the washer, stove, microwave, two file cabinets, and the warped metal frame of what used to be Mike's favorite recliner.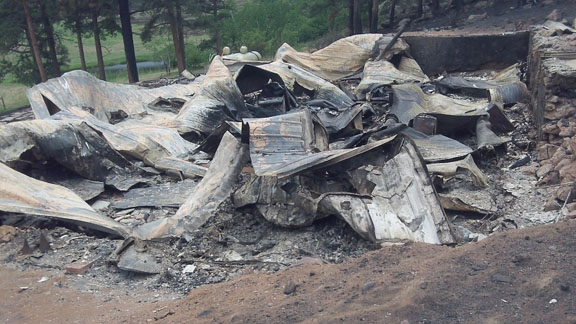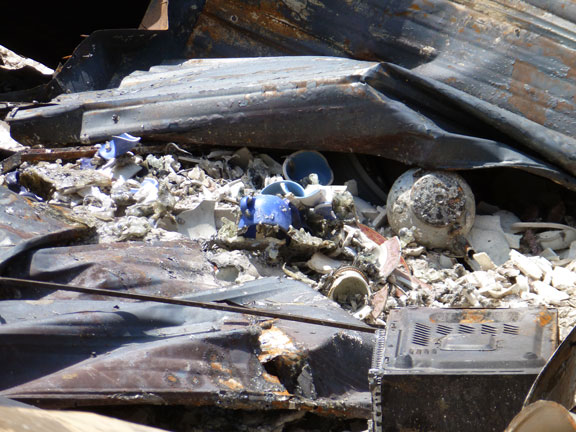 Mike and I were both surprised at how practically we handled it, even making jokes and laughing when we identified something in the rubble. I think this was due in large part because we were thrilled at how much prayer, firefighter, and angel-protected green surrounded our place. And the studio – the blessed protected studio! – looks like it was gone on vacation for all this disaster, and was plunked right back down in the middle of it all. It's beautiful and perfect! We walked in, flipped a switch, and power had already been restored! The water is good, and all of our sewing machines, business machinery, resource books, and costumes stored in this building are wonderfully safe! Of course there is a smell of smoke, but we'll see if insurance can help clear that out.
The miracle Studio/Shop - our new home.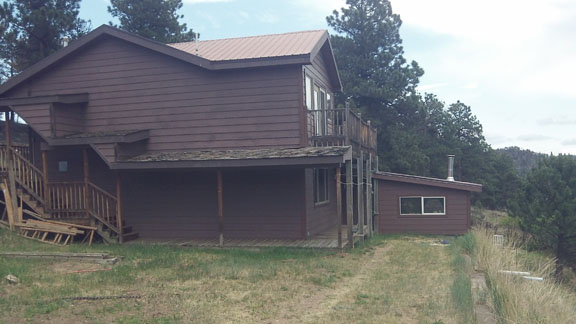 So, while we will certainly mourn the loss of our beautiful house and its treasured contents, we're so glad we can return "home." The studio is where Mike and I lived the first year we were married, so coming home to it is a warm experience. Besides our work rooms, Mike's office, and storage space, it also has a guest bedroom, a cute little kitchen and dining area, and bathroom. At this point, we're talking of moving into the studio, where we already have a collection of second-best dishes and towels, and sheets for the guest bed, and everything we need to live while we start the cleanup and rebuilding process. One current idea we're considering is to rebuild a new studio on the site of the old house (complete with a new guest/client quarters), and then once that's finished, move into it while we gut and rebuild the current pieced-together studio into our new home. That way, I'll get the sewing room of my dreams, Mike will have a painting studio with perfect north lighting, and we will redesign our new living space together.

Mike's beloved Spencer Mountain, viewed from our front door across the meadow, was scorched to the top. This is one of Mike's greatest regrets. Hundreds of other trees on our property will need to be removed, too.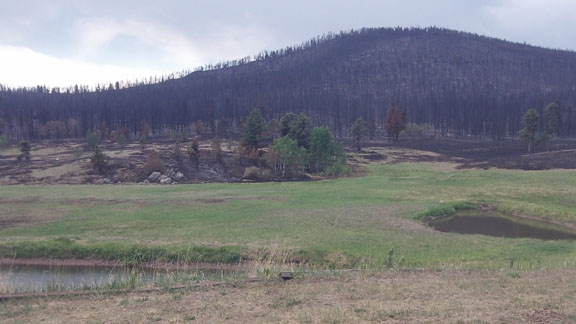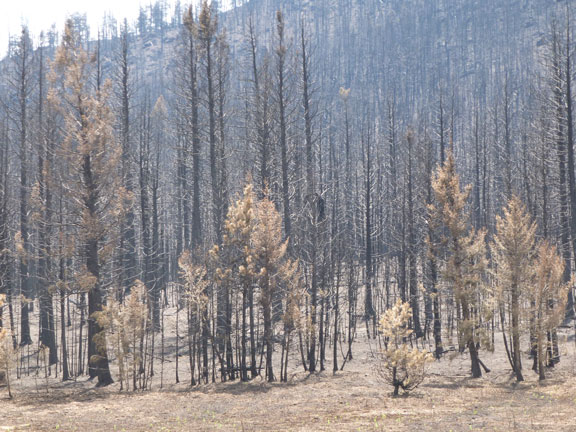 Mike views an ash flow across our property, caused when any little bit of rain falls on the burnt areas. Erosion control is now a concern.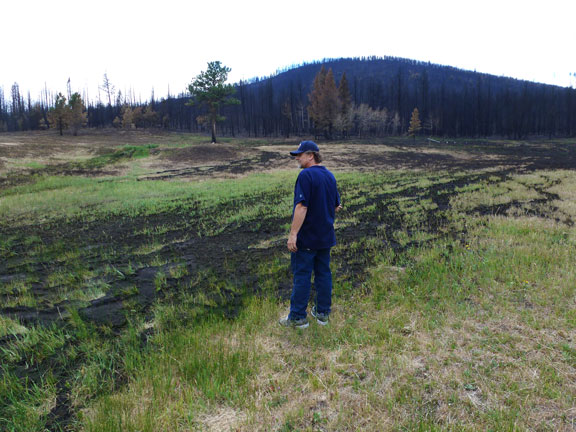 In the meantime, Mike will begin the financial task of juggling filling leather orders again with having to take time off from leather work to do the necessary months-long job of cutting down and removing hundreds of dead trees, making sure the neighborhood road stays passable due to possible mudslides and erosion, removing debris, and planning and re-building our outbuildings and home.

The point is - we have a plan, and we're gonna be OK!

Mike's garage and tractor were unscathed! It started right up - good thing, because we're gonna be needing it for all the cleanup.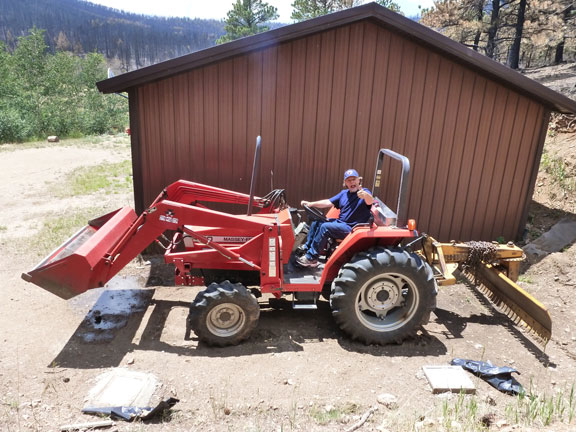 Thank you to everyone for your continued care and prayers. As you have bountifully offered, we will gratefully accept your help, because this task is too great for just the two of us. Some help will be financial, some for comfort, some with the loan of heavy equipment to clear and build, and some with physical labor. We have a long road ahead of us, but it's ahead, not behind. Behind us is the pain, tears, fear, and loss, and ahead is the joy of a new road. We're both artists and designers, you know, and the challenge and joy of what we will plan and what is to come has a great appeal.

Not visible in these photos, our green valley is now surrounded by about 1/2 mile-wide band of black, some of which was torched so fiercely the actual ground is burnt. Too many of our neighbors lost everything, and have nothing but blackness and ash to which to return, if they have the heart. Our miracle oasis has encouraged us to return to Paradise Park and rebuild. Thank God for you and your prayers, His angels, and the brave firefighters from across the country and beyond.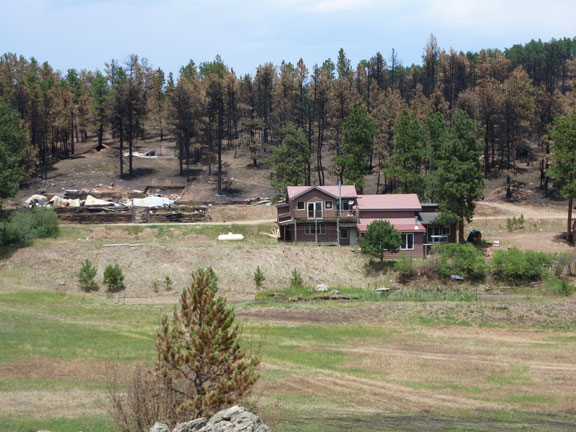 For all of you who wrote and called, I hope in the coming weeks to be able to speak with each of you personally to give you my heartfelt thanks. Thank you for your understanding and patience. Every single email, card, and phone message was read, heard, and appreciated.

This is not the last you've heard of us! : )
I'll try to keep you posted as our journey progresses….
Most sincerely,
Sharon & Mike Guli
PO Box 127
Bellvue, CO 80512

PS: I plan to post more photos soon on Facebook to be viewed publicly, and will let you know when and give you the link.
The Colorado High Park Fire and Us
Dear Friends, Family, Fans, and all of you who reached out to us,

As many of you know by now, the High Park Fire in Colorado has burned more than 43,000 acres since it started on Saturday. It is truly a "wild" fire, with strong winds and drought conditions making it uncontrollable. Today for the first time, our brave firefighters, together with an incredible teamwork of support from across the country and beyond, were able to make a start at containment, achieving 10%. Vast evacuations continue, over 100 structures have been lost or damaged, and one person has perished. Please pray for rain, no winds, safety of all involved, especially our exhausted hero firefighters, and success over this catastrophe.

The fire was caused by a lighting strike from an intense storm last Thursday night. After smoldering unknown, early Saturday morning a smoke plume was reported within a mile west of our house, which is located in a beautiful area known as Paradise Park, next to national forest land. By 10:00 AM, we received a call from a concerned neighbor who had heard of the report, and shortly thereafter we could indeed see a small smoke cloud too close for comfort. I began to pack, hoping it would only be a drill, as firefighter planes and helicopters quickly arrived and began the assault. The wind was already of concern. Mike kept watch as the smoke intensified and at times filled our valley.

Not much more than an hour later, we received an urgent automated reverse 911 call to evacuate immediately. We scrambled to grab the cat and select those items from house and studio which we deemed most valuable and/or which could not be replaced, and which we would most need to continue to carry on our lives and business should we never return. I threw an armload of clothes into a small suitcase, and we pealed out of there in our car and van with a towering black and orange smoke cloud over our shoulders.

Through the graciousness of our friends, Mary, Lonna and Rex, Susan and David, and Cyndee and Robert, we boarded our cat, stashed our stuff, and are sheltered comfortably. We are safe, and we were able to take the most important things with us.

Today, we received official good news, and bad news, and good news, through the eyewitness account of our neighbor who is one of the hundreds of volunteer firefighters on the front lines, and verified even further by aerial photographs from a local news channel.

It has been confirmed our house and outbuildings have been lost, despite the personal and valiant efforts of our neighbor Jim Terrell, his fellow firefighters, and a firefighting team from Idaho. The Good News - our studio, a separate building where Mike and I lived comfortably the first year we were married, and where all of our production takes place, and containing many valuable research books and materials, our sewing machines and heavy equipment, and all of Mike's beautiful artwork, is untouched as of this time, along with our garage and some large farm equipment. Praise God! More good news - all 15 horses which had to be abandoned when we and our neighbors had to evacuate so rapidly, including six which were on our own property, were today evacuated by the Humane Society, and are safely reunited with their owners.

While we will mourn the loss of our home and its contents, we are blessed to still have a place to which to return. Other neighbors have lost everything. Please pray the fire does not return to our valley (there were still HotShot teams in there fighting fires today), for continued protection of all of the firefighters, and for favorable weather conditions.

When this is all over, and if the property status remains the same, we and our neighbors plan to return to Paradise Park, clean up, adapt, rebuild, add on, and carry on. As Mike says, we are mountain people, and we are grateful everyone got out alive. Houses are just houses, after all, and can be rebuilt, and the memories will still be cherished. God is good, and miracles have happened.

Mike and I wish to thank every one of you who have called, texted, emailed, and prayed for us during this stressful time. You have offered love, help, pillows, food, shelter, trailors, makeup, soap, offers to help clean up if needed, offers to help design and rebuild, hugs, comfort, your phones, your internet, and more than I can say. We have been touched by the outpouring of support from literally across the world.

We do not expect to be allowed to return home for some time yet, as this is still an active and dangerous fire. Once it is controlled, we have been told it may be 6-8 weeks, or more, before power can be restored to the area. We are in good hands, and so many of you have offered us lodging, we know we will be well cared for. And yes, we have insurance! : ) And most importantly, we have each other, and all of you.

We appreciate the love and support more than you know. Thank you for your continued prayers. Mike knew the one person who perished, and we have too many friends and neighbors who are still awaiting news on if their homes remain.

We apologize for not being able to personally return every call and email, but we have been running constantly since evacuating. Be assured we have listened to, read, and appreciate every one of your messages, and will keep in touch.

Thank you, friends. So much love from you all. God bless every one of you.

Most sincerely,
Sharon & Mike Guli
Guli Productions/Michael J. Guli Designs/River Crossing Inc.

PS: If you wish to view footage of the fire, we suggest you visit www.9news.com.